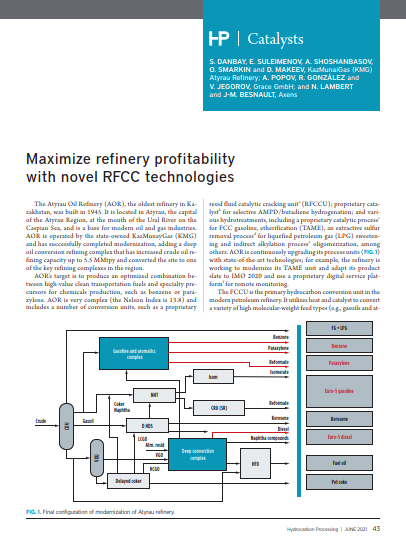 The Atyrau Oil Refinery (AOR), the oldest refinery in Kazakhstan, was built in 1945. It is located in Atyrau, the capital of the Atyrau Region, at the mouth of the Ural River on the
Caspian Sea, and is a base for modern oil and gas industries.
AOR is operated by the state-owned KazMunayGas (KMG) and has successfully completed modernization, adding a deep oil conversion refining complex that has increased crude oil refining capacity up to 5.5 MMtpy and converted the site to one of the key refining complexes in the region.
This article describes a successful case of how a robust combination of operating expertise, state-of-the-art hardware and novel catalyst technologies have enabled AOR's RFCCU to achieve the facility's ambitious conversion objectives while processing one of the most challenging feedstocks found worldwide.