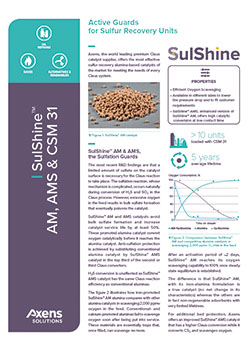 Axens, the world leading premium Claus catalyst supplier, offers the most effective sulfur recovery titania-based catalysts of the market for meeting the needs of every Claus system.
The most recent R&D findings are that a limited amount of sulfate on the catalyst surface is necessary for the Claus reaction to take place.
The sulfation reaction, whose mechanism is complicated, occurs naturally during conversion of H₂S and SO₂ in the Claus process. However, excessive oxygen in the feed results in bulk sulfate formation that eventually poisons the catalyst.