Commercial Bulletin
Low Carbon Hydrogen Purification
Global Solution for Hydrogen Purification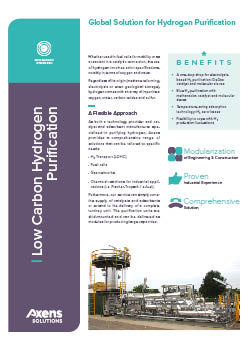 Whether used in fuel cells for mobility or as a reactant in a catalytic conversion, the use of hydrogen involves strict specifications, notably in terms of oxygen and water.
Regardless of its origin (methane reforming, electrolysis or even geological storage), hydrogen comes with an array of impurities: oxygen, water, carbon oxides and sulfur.
Axens offers tailor-made solutions for the Hydrogen purification.