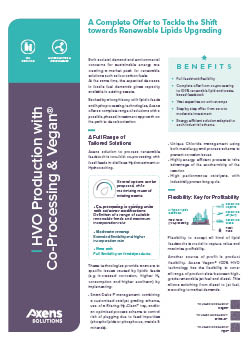 Both societal demand and environmental concerns for sustainable energy are creating a market push for renewable solutions such as low carbon fuels. At the same time, the expected decrease in fossils fuel demands gives capacity available in existing assets.
Backed by a long history with lipidic feeds and hydroprocessing technologies, Axens offers a complete range of solutions with a possible phased investment approach on the path to decarbonization.
Axens solution to process renewable feedstock is two-fold: co-processing with fossil feeds in distillates Hydrotreatment or Hydrocracking.
These technologies provide answers to specific issues caused by lipidic feeds (e.g increased corrosion, higher H₂ consumption and higher exotherm).