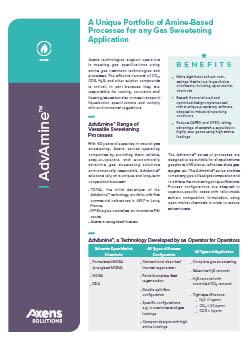 Axens technologies support operators in meeting gas specifications using amine gas treatment technologies and processes. The effective removal of CO₂, COS, H₂S, and other sulphur compounds is critical, in part because they are responsible for toxicity, corrosion and freezing issues but also to meet transport/ liquefaction specifications and comply with environmental regulations.
With 60 years of expertise in natural gas sweetening, Axens serves operating companies by providing them reliable, easy‑to‑operate and economically attractive gas sweetening solutions
environmentally responsible.