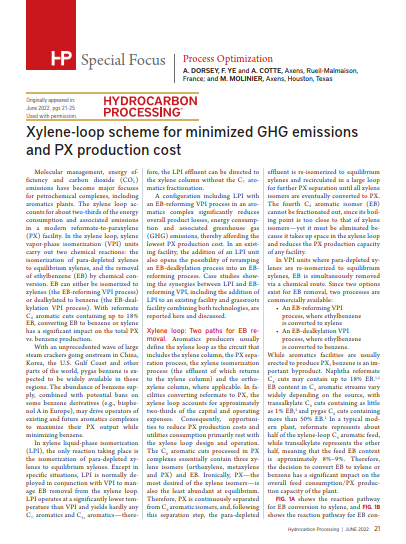 First published in Hydrocarbon Processing, June 2022
Molecular management, energy efficiency and carbon dioxide (CO2) emissions have become major focuses for petrochemical complexes, including aromatics plants.
The xylene loop accounts for about two-thirds of the energy consumption and associated emissions in a modern reformate-to-paraxylene (PX) facility.
In the xylene loop, xylene vapor-phase isomerization (VPI) units carry out two chemical reactions:
The isomerization of para-depleted xylenes to equilibrium xylenes,
and the removal of ethylbenzene (EB) by chemical conversion.
EB can either be isomerized to xylenes (the EB-reforming VPI process) or dealkylated to benzene (the EB-dealkylation VPI process).
With reformate C8 aromatic cuts containing up to 18% EB, converting EB to benzene or xylene has a significant impact on the total PX vs. benzene production.